By: Susan de la Fuente
from the JewishPess.com
May 17th, 2012
Rivkah Bloch grew up in Telz (Telsiai), a historic township and renowned Torah center in north-west Lithuania. In 1939 the Jews of Telz numbered about 2,800, some 28 percent of the population. Rivkah's paternal grandfather Reb Yosef Leib Bloch, (1849-1930) zt"l, also known as Maharil Bloch, was a distinguished personality and a prominent scholar and educator. Besides his position as town rabbi, he headed the great Yeshivah of Telz that his father-in-law Rav Eliezer Gordon, zt"l had founded. Its student body numbered around 400 students in 1900.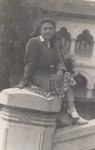 One of eight children, Rivkah Bloch attended the high school that her grandfather had founded. At Yavne, which belonged to the high-level educational network of Agudath Israel, limudei kodesh or sacred subjects were taught in Hebrew alongside a broad curriculum. Since the girls were actively encouraged to talk Hebrew during school breaks, Rivkah acquired a sound knowledge of Hebrew and also learned Lithuanian, German and Russian.
When Lithuania lost its independence in 1940, the Russians disbanded the yeshiva and the religious high schools. The disastrous German invasion followed on June 22, 1941, reaching Telz on June 26, where they wreaked slaughter and destruction. Armed Lithuanians under Nazi command brutally rounded up the Jews, stole their valuables and ejected them from their homes. On July 15, Rivkah's father, brothers and male relatives were shot to death or buried alive with the other Jewish men in mass graves at Rainiai, four kilometers away. In bidding farewell to three of his daughters, Chasya Hy"d, Naomi and Rivkah, Rav Zalman-Shmuel Bloch urged them to remain true to their heritage as religious women.
Most of the Jewish women and children were liquidated at the Geruliai concentration camp on August 30. Children were buried alive, while babies' heads were smashed with stones. (Many of the atrocities are documented at http://kehilalinks.jewishgen.org/telz According to this source a few Lithuanian farmers extended help to the suffering Jewish women on forced labor details, while others abused them severely and murdered them in some cases.)
In the final months of 1941 the Lithuanians and the Gestapo continued their cruel abusive behavior. Fifteen-year-old Rivkah was transported to the Jewish ghetto in nearby Shavli (Siauliai) late in 1941. Aware that death was imminent if she stayed there, Rivkah escaped together with her cousin Miriam Kleiner. The girls sought refuge in a wooded area where they wandered among farming villages and forests.
During the final years of the war, Rivkah was often left to face adversity totally alone. Sometimes non-Jews in isolated areas would pity her and shelter her for a few days, but mostly she had to hide in barns, cowsheds and pits and forage for food in garbage heaps. Since Nazi sympathizers were swift to alert the police to her presence, the Gestapo almost caught her many times. Once she burrowed deep into a pile of hay to hide, concealing herself just a fraction deeper than the jabbing and poking of her pursuers who finally abandoned their search. Another time she huddled, trembling behind a bed, while the police searched the house of her host. Their daughter covered for her by sitting on the bed, where she busied herself with some sewing or knitting. On another occasion, when the police came to the front door of a house where Rivkah sheltered, she was unceremoniously pushed out the back door into a snow-covered potato field. Famished, she ate some raw potatoes to still her hunger and spent the night without shelter. Even more traumatic than the torments of hunger and cold was her isolation, the heaviest burden she had to bear. Believing that she was probably the last Jew to survive, she pleaded with the Almighty not to leave her all alone in the world.
Although Rivkah's two surviving siblings in the USA urged her to join them, she was resolved to resume her life in Israel. Her sister, Naomi Bloch Stein, who married Rabbi Pesach Stein zt"l in 1948, and her cousin Chaya Bloch Ausband were the only two Jewish women to survive the war in Ghetto Shavli. Another sister, Shoshana, was brought to America before the war by her chosson, Rav Mordechai Gifter zt"l. However, because Rivkah simply did not wish to live among non-Jews any longer, she joined up with other illegal immigrants who went to Israel via Italy. They landed in the middle of the night on a rickety Maapilim boat in 1946 near Atlit, and luckily the British authorities did not notice their landing.
Twenty-year-old Rivkah recovered her happy disposition and sense of humor in Israel, putting behind her the years when, in her son's words, "She lived like a hunted animal."
Categories: Uncategorized
Leave a Reply
You must be logged in to post a comment.