Malala is the hero of Bat Kama At. Standing for the cause of girls' education has been recompensed by the highest reward ever. She is the age of the Yavne gymnasium students.
Her action began when she was only 11 years old. She is now 17 and received
The Nobel Peace Prize for 2014
http://www.nobelprize.org/nobel_prizes/peace/laureates/2014/press.html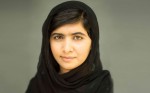 Categories: Uncategorized
Leave a Reply
You must be logged in to post a comment.