Students projects
Travaux des lycéens

December 4th, 2011
Students projects
Travaux des lycéens
| | | |
| --- | --- | --- |
| | | |
The first student project is now developed in the Telšių Vincento Borisevičiaus gimnazija, in the hometown of the 500 girls and women to whom Bat Kama At is devoted. Here, the chair Robertas Ežerskis and the history teacher Janina Bucevičiūte with Jūrate Normantiene Lina Garbaliauskaite, both English teachers are welcoming the author of the project in September 2011. This page has been published on the website of school and mentions the investigation initiated by students following this visit.
Groups of students of Vincento Boriceviciaus are now working on copies of the school archives of the Telzer Gymnazium Yavne located (more than hundred of documents from the Central Lithuanian archives). These documents are from the years 1923 to 1940. A synthesis of their work will be published on this website at the end of this research. Different type of works will illustrate what students have learned and understood : texts, videos or graphic creations. An event based upon a group exhibition should emerge when this process of learning and creating under the pedagogical supervision of the teachers will come to completion. This Experience of living history in Telsiai Vincento Boriseviciaus Gimnazija can be modeled by other secondary schools in other cities, in other countries. Each experience will be reflected on this website and can be pursued and interconnected in the future with other experiences of learning about this history of Jewish education in Telz.
Le premier lycée à s'engager dans le projet Bat kama at, le
Telšių Vincento Borisevičiaus gimnazija
se situe dans la ville même où ont grandi et étudié les 500 jeunes filles et femmes à qui ce projet est dédié. On voit ici le directeur du lycée, Robertas Ežerskis, un professeur d'histoire Janina Bucevičiūte, ainsi que Jūrate Normantiene et Lina Garbaliauskaite, toutes deux professeurs d'histoire, accueillir l'auteur. L'article a été publié sur le site de l'école et fait état de l'enquête entreprise par les étudiants à la suite de cette visite.
Plusieurs classes du lycée sont actuellement en train d'analyser les documents scolaires transmis par les archives nationales de Lituanie à propos du lycée Yavné de Telz dans l'entre-deux guerres (plusieurs centaines de documents exceptionnels). Ces travaux seront mis en ligne sur ce site lorsque une synthèse pertinente sera produite à l'issue de ce travail documentaire. Des documents de différents ordres : textes, vidéo, créations graphiques illustreront également le contenu de cette recherche. A terme un évènement basé à partir d'une exposition collective devrait voir le jour à l'issue de ce travail pédagogique encadré. Cette expérimentation servira de modèle transformable pour l'implication d'autres institutions scolaires approchées en Europe.
UNE PREMIERE SERIE DE DESSINS ONT ETE REALISES par les élèves de la classe d'arts plastiques de Mme Marija Krajinskiene , en commémoration des 70 ans de la Shoah. La présence des jeunes filles était dans toutes les têtes, le premier collage montre l'école de fille Yavné déchirée au coeur d'une étoile de David, entourée de graphie lituanienne.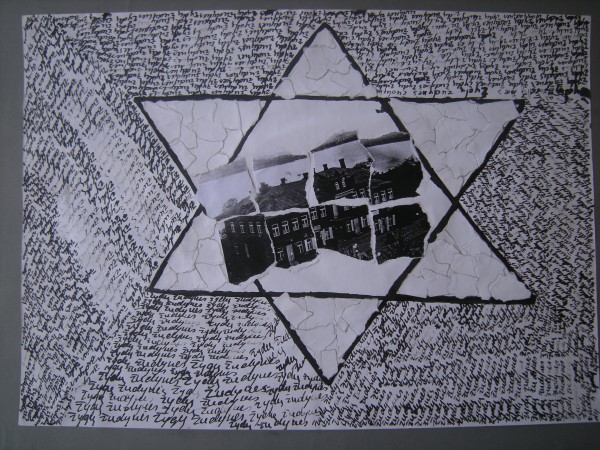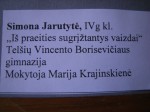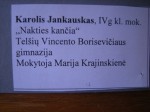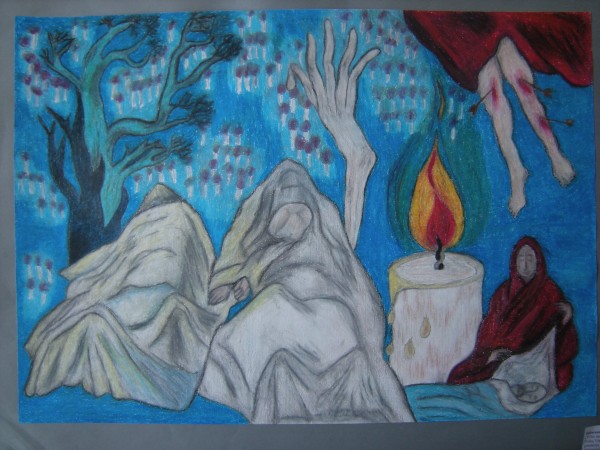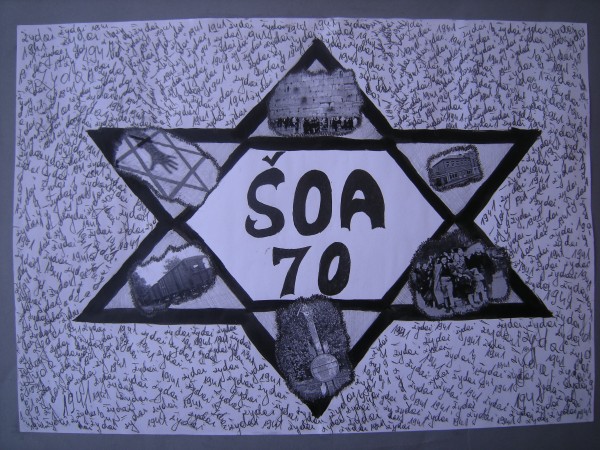 One Response to "Students projects
Travaux des lycéens"
Leave a Reply
You must be logged in to post a comment.